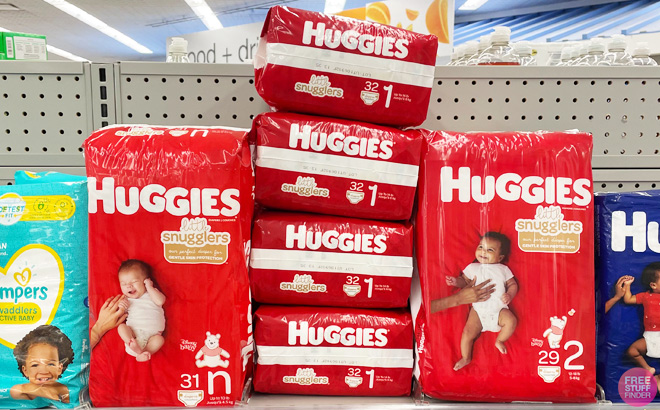 Through March 12th, go to Walgreens where they have select Huggies diapers on two for a $20 sale and you will receive $4 Register Rewards when you buy 2. Plus, there are digital coupons and cash back offers you can use and score two diaper packs for free.
Just take two Huggies Little Snugglers (newborn, size 1 or 2) diaper packs for $20, clip the $5 Walgreens Cash Booster Coupon when you spend $20 and $5 off two Huggies digital coupon as shown in the breakdown below. Pay $15 and submit for two $1.50 Ibotta and $5 Shopkick cashback offers.
After that, receive $5 Walgreens Cash for spending $20 (from the booster coupon) and $4 Register Rewards for buying two diaper packs. All this will make both diaper packs free, and you'll earn $2 as a moneymaker.
To earn even more, be sure to check for a possible Fetch Rewards cashback (2000 points = $2 value). Note that this deal is valid until coupons or cashback offers expire.
*Please note that some images in this post are for illustration purposes only. 
2 FREE + $2 Moneymaker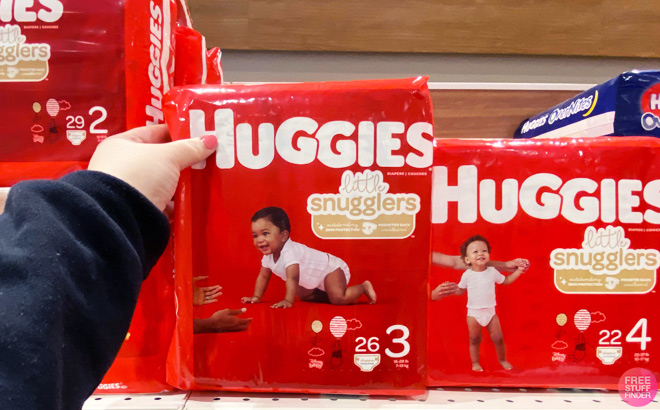 ► Buy 2 Huggies Little Snugglers Diapers @ 2 for $20
(newborn, size 1, or 2)
Use Get $5 Walgreens Cash with $20 Purchase Booster Coupon (x3/12)
and use $5/2 Huggies Diapers Digital Coupon (x3/12) = -$5
Pay: $15
Get Back (x2): $1.50/1 Huggies Little Snugglers Ibotta Cash Back (limit 2)
(Ibotta offer is valid for newborns, and sizes 1 and 2)
Get Back: $5/1 Huggies Diapers Shopkick Rebate
Get Back: $5 Walgreens Cash for spending $20 (booster coupon)
Get Back: $4 Register Rewards for buying 2 
Final Price: FREE + $2 Moneymaker
2 FREE + 40¢ Moneymaker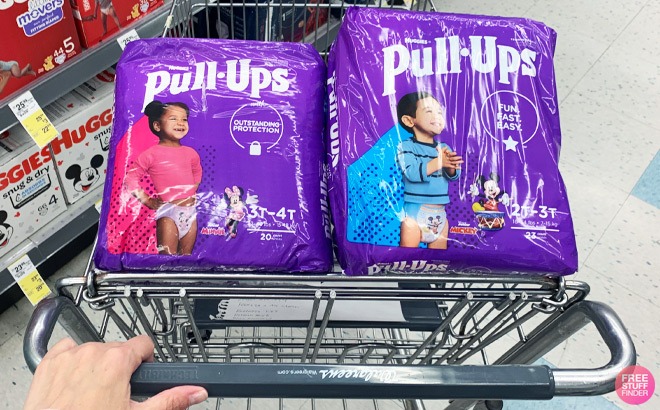 ► Buy 2 Huggies Pull-Ups @ 2 for $20
Use Get $5 Walgreens Cash with $20 purchase (x3/12)
and use $4/2 Huggies Diapers Digital Coupon (x3/12) = -$4
Pay: $16
Get Back: $7.40/1 Huggies Pull-Ups Shopkick Rebate
Get Back: $5 Walgreens Cash for spending $20
Get Back: $4 Register Rewards for buying 2 
Final Price: FREE + 40¢ Moneymaker
If You Don't Have Ibotta Offer Try This
► Buy 2 Huggies Little Snugglers Diapers @ 2 for $20
Use Get $5 Walgreens Cash with $20 purchase (x3/12)
and use $5/2 Huggies Diapers Digital Coupon (x3/12) = -$5
Pay: $15
Get Back: $5/1 Huggies Diapers Shopkick Rebate
Get Back: $5 Walgreens Cash for spending $20
Get Back: $4 Register Rewards for buying 2 
Final Price: 50¢ each or $1 for both